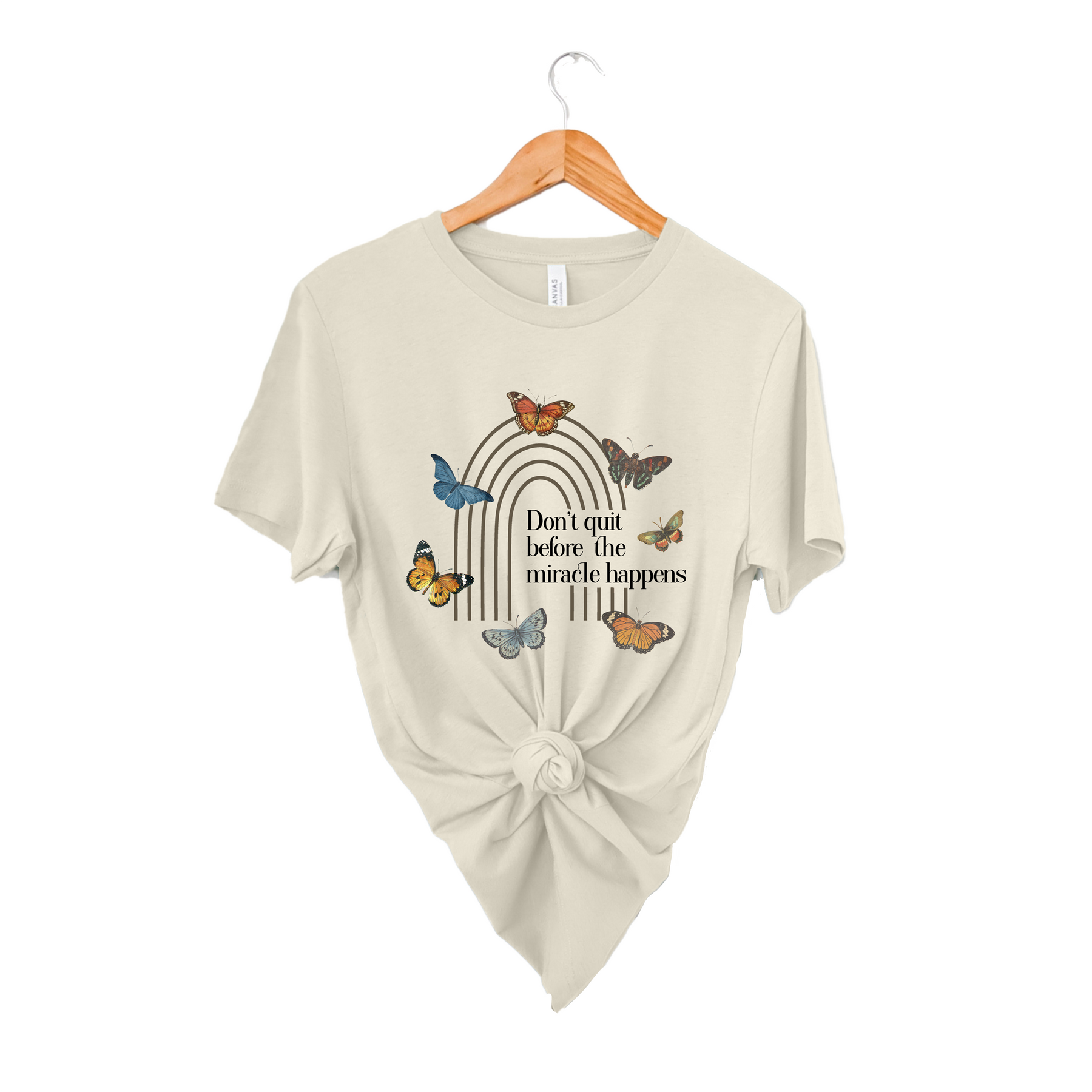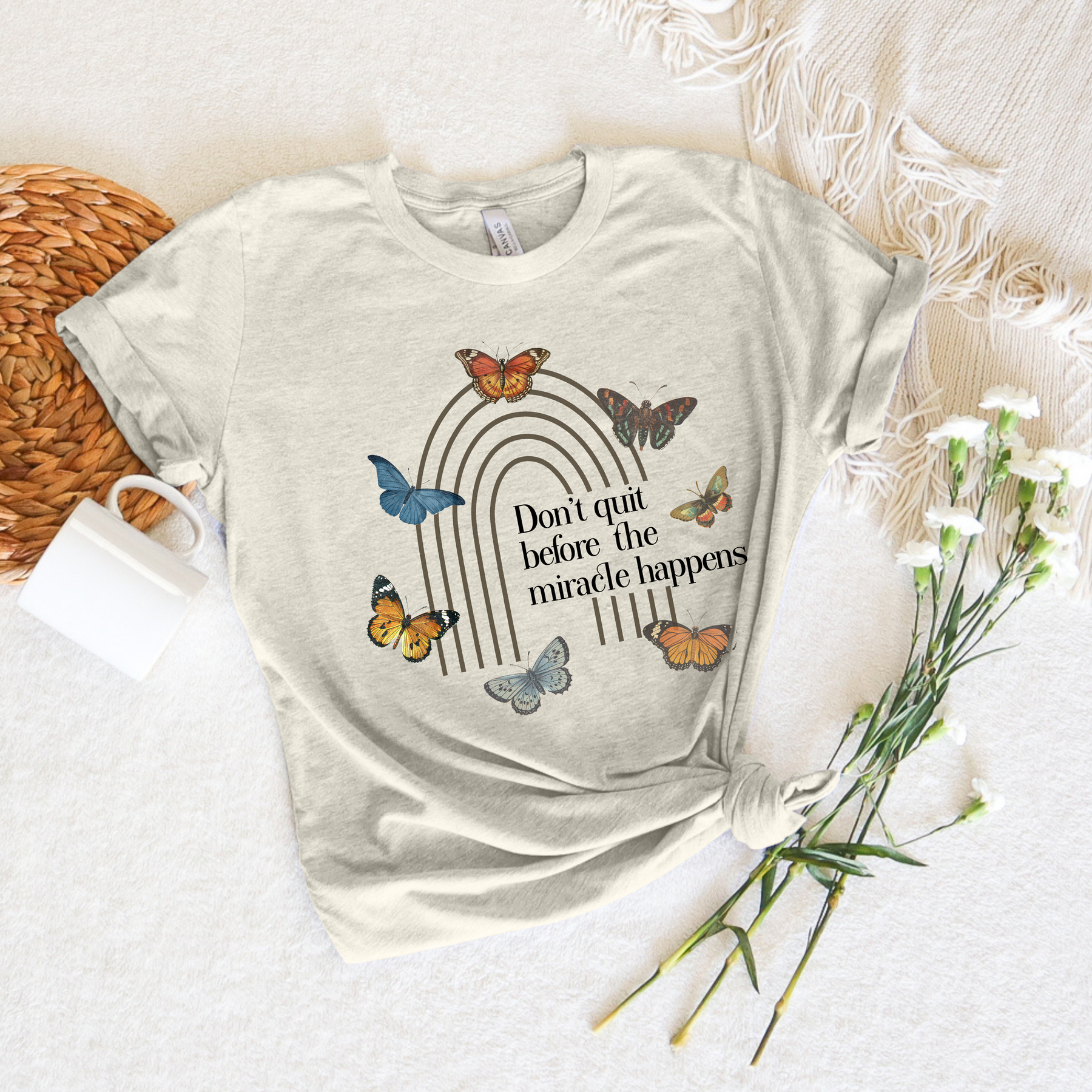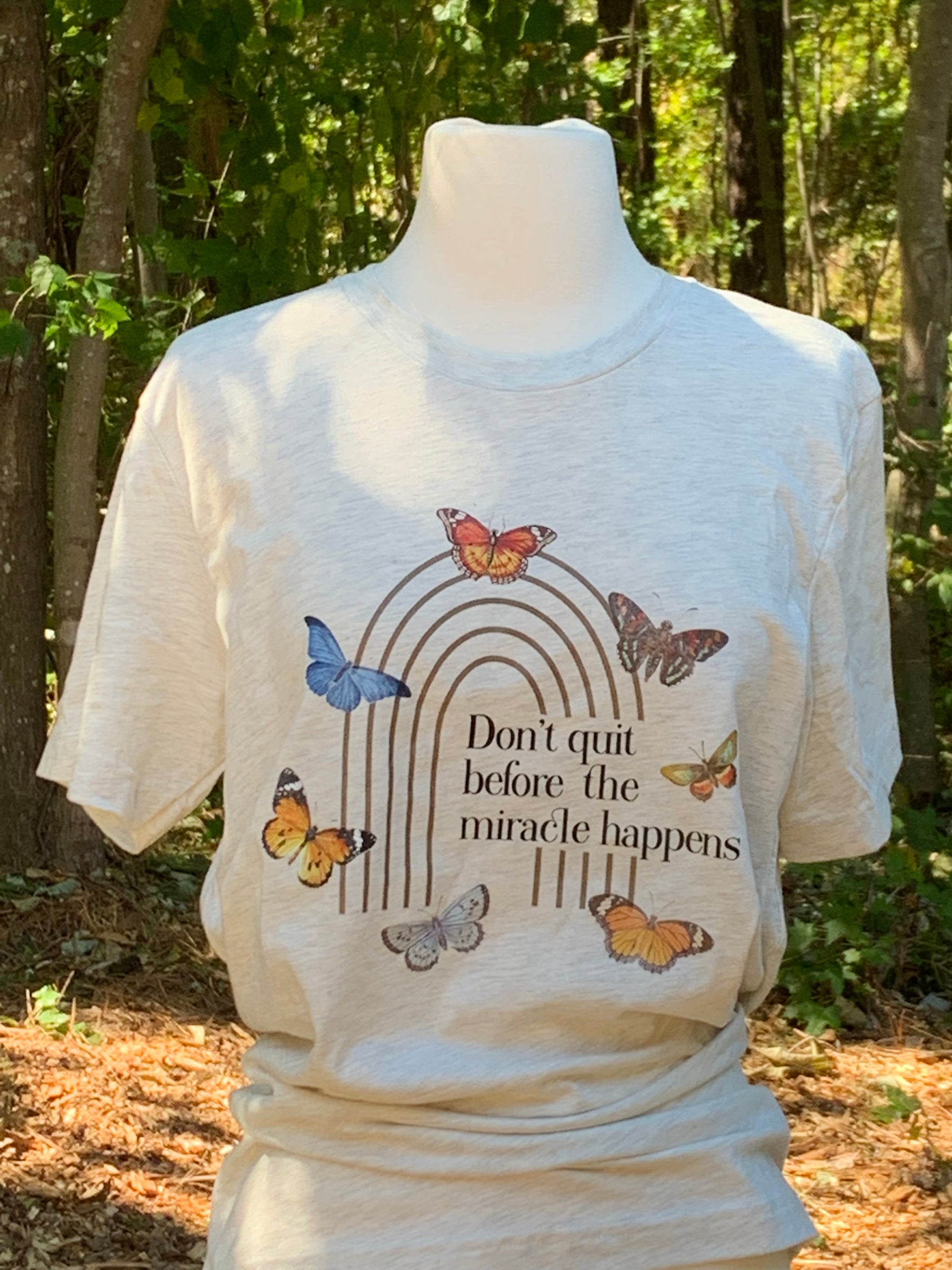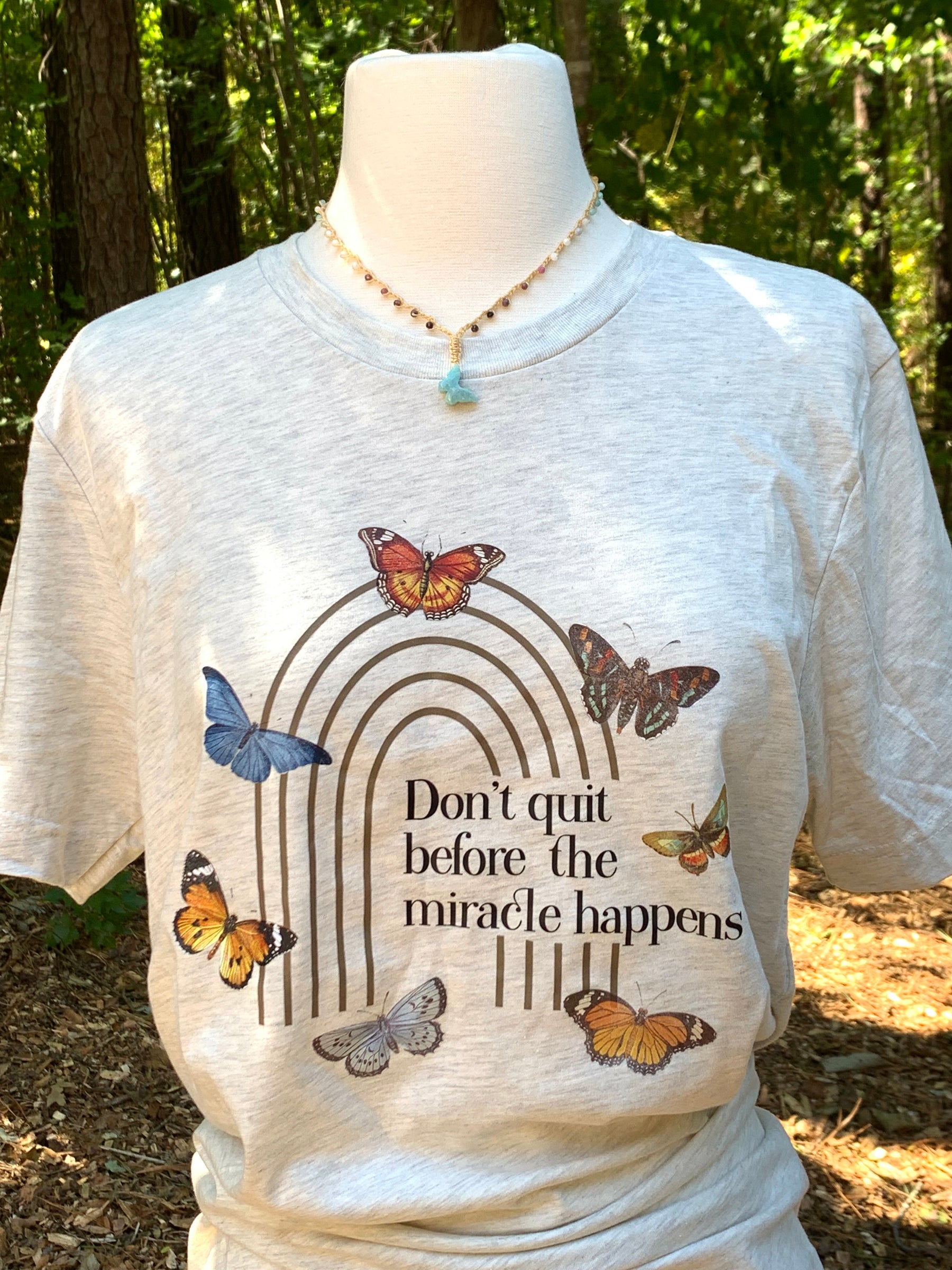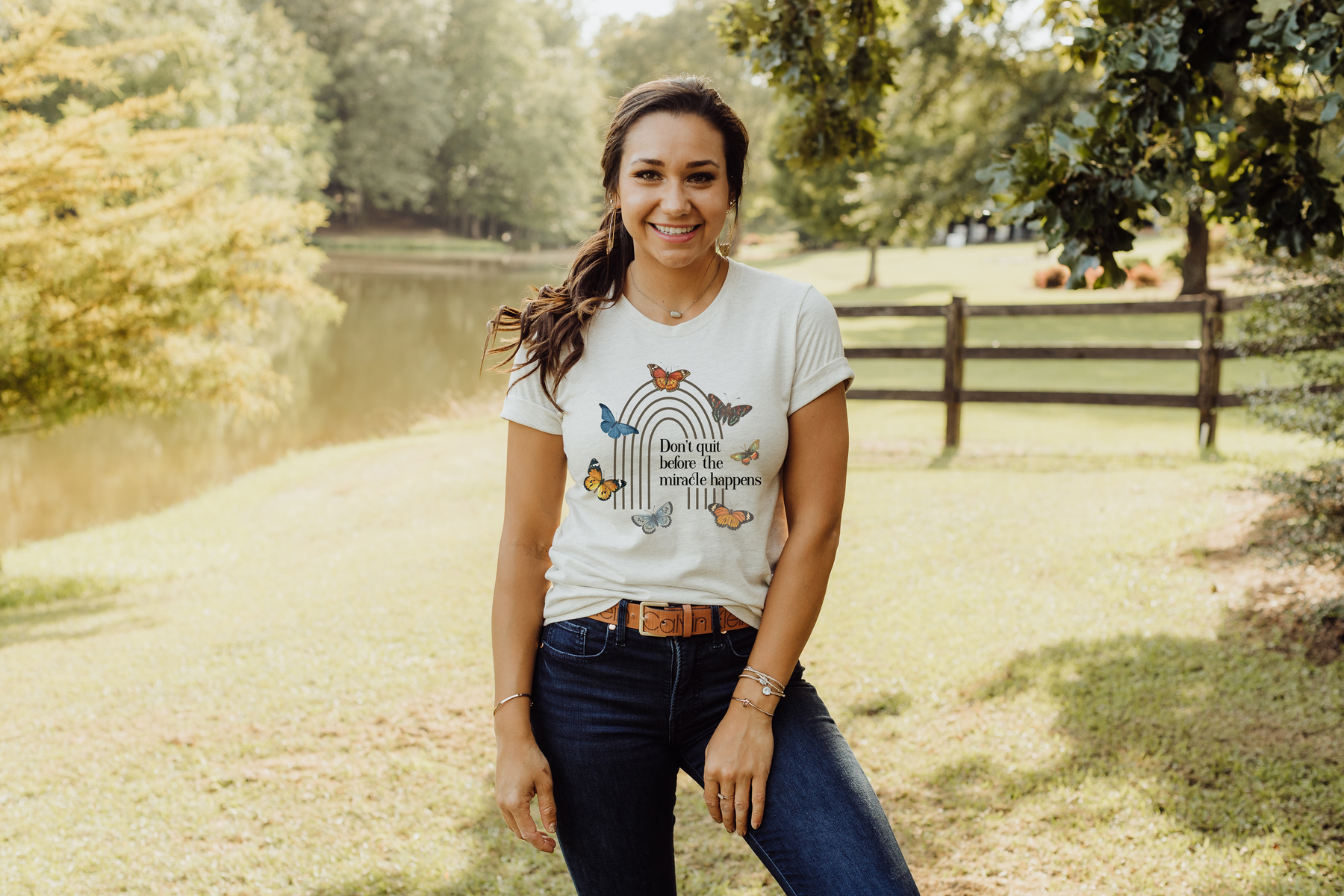 Believe in Yourself - Butterfly T-Shirt
Butterfly T-Shirt – Don't Give Up
 Overview

Fit & Sizing

Why Bella+Canva Shirts?
The life of a butterfly is the perfect example of a never give up attitude.  From a slow-moving caterpillar to stationary cocoon, it transforms and perseveres.  Its final metamorphosis is to one of grace and beauty. 
This butterfly t-shirt was designed to remind individuals that if you give up, you may never see your miracle happen.  Always believe in yourself, no matter the challenges.  What is on the other side of your chaos, may be the most beautiful thing you have ever seen.
This butterfly tee shirt would make great inspirational gifts for college girls who are doubting themselves after their first mid-term exam.  Or perhaps it would better serve them before the mid-term; while they are studying. It's a reminder that hard work and dedication can lead to success.
Do you have a friend that just received a devastating yet hopeful medical diagnosis?  This butterfly t shirt can offer comfort when she feels like giving up.  It can also help a family member who just simply has self-confidence issues.  She may catch her reflection in the mirror and be reminded that her story has yet to be told.
Inspirational T Shirts Offer Unique Style
Inspirational t shirts can reflect your personality.  They make a statement……while making a statement.  They may also serve as a small reminder to a stranger that causes them to make a positive change in their day.
Each butterfly t-shirt will include an inspirational card that reads:
These are UNISEX Bella+Canvas shirts. This heather oatmeal shirt is 4.2oz., 

99% airlume combed and ring-spun cotton, 1% polyester.

For ladies, they are true to size if you want a LOOSE fit. 
However, if you prefer a more fitted shirt, please size down.  If you have a favorite shirt at home, I recommend measuring it to insure you are getting the fit you desire. 
Want to see more gifts for nature lovers?  Shop here.
Bella+Canvas is an eco-friendly company that labels themselves as USA Strong.  Their cotton is sourced from all over the world but their dyeing, cutting and part of their sewing processes are completed in Los Angeles.  They employee thousands of Americans in California while the other sewing operations are completed in Central America. 
Bella+Canvas is committed to ethical standards. As posted on their website (www.bellacanvas.com), "By using newer, more efficient dye machines, we use 7x less water than the average for clothing manufacturers, saving 24 million gallons a week. Any water we do use goes through a filtration system that allows it to be recycled." They also make every effort to reduce their carbon footprint with the use of skylights in their buildings and motion sensor LED lighting.  All employees are encouraged to use electric vehicles and charging stations are available for them to use while at work. 
"Our manufacturing facilities and LA Headquarters produce almost no landfill because we recycle pretty much everything that can't be turned into a tee. We've optimized our cutting to reduce plastic use, and excess fabric is recycled into a number of things like baby bibs or stuffing for upholstery. Let nothing go to waste!"
Soaring Spirit Designs will donate a portion of the profit from each sale of this self-love product to Suicide Prevention. If you or someone you love needs help, please reach out to the National Suicide Prevention Lifeline by calling or texting 988.